Saturday June 20, 2015.
Worked with Lima's local Veterans Food Pantry/Blue Star Mothers.  A donation of $400 was made to the Veterans Food Pantry on behalf of the Limaland Tour and the Tour Sponsors!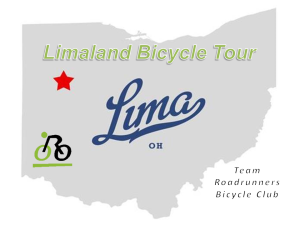 Click on picture above to access photo album pictures!
And a couple of videos here:
Looking forward to an even better ride in 2016!
 Thank You to all of our 2015 Tour Sponsors and Partners:
Activate Allen County
Allen County YMCA
BASF/BASF VETS
City of Lima
CG Pro Bikes
Dominion
Kohli & Kaliher Associates, Inc.
Lafayette-Jackson Historical Society 
PotashCorp – Lima
Veterans Food Pantry / Blue Star Mothers
Wingate Lima
Walgreens of Lima
If you or your business has an interest to sponsor or participate with the Limaland Bicycle Tour, please contact us at teamroadrunners.org@gmail.com. We would love to work with you.